Testable Systems With Threats For Analysis And Requirements (TSTAR)
Overview
TSTAR is a simulation control framework (services) and a collection of models and tools.
Integrates models, such as hardware and environment, with computer programs to create complex system representations. Computer programs are models or re-compiled tactical programs.
Verified TSC models include:
Environment models: propagation, clutter, targets
Radar hardware models: AN/SPY-1 and AN/SPQ-9B
Specification models: C&D, WCS, FCS, VLS, CEP, CDLMS, AN/SPQ-9B air
Weapon models: SM-2/6/3, ESSM 3+ DoF (all blocks); MK 45 Gun
Available separately with permission:
Aegis re-hosted (re-compiled for change/debug) tactical programs
AN/SPQ-9B tactical air tracker; CEC tactical model
6 DoF Weapons
Simulates multi-platform scenarios with complex threat/environment
Runtime display/control and post-run data analysis tools
Leverages TCE technology and development team SMEs
Benefits
Runs non-real time (usually faster), supports high-fidelity sensors/threats, accessible debug capability with reproducibility
Supports team sharing for development and test with many replications on low requirements hardware
Plug and play processing environment support
Analysis Support Tools Available:
Automated Build
Data Analysis and Visual Display (DAViD)
Automation/Grid processing
Automated Performance Assessment (APA)
Additional Details
Common environment:

AAW, BMD, surface, and interceptor debris models
Electronic Attack models
Non-standard propagation
Sea, site-specific land, chaff, weather

Monte Carlo controller
Operator model
Hardware/ Software Requirements
Windows 10 or Linux RHEL 7
Dual/multi-monitor recommended
Quad-core, 2GHz processor or better
16+GB RAM or better 100 GB HD or better
TSTAR Framework Design
Service provider (configuration, data access, data recording, event/message routing, event scheduling, time of day access, more)
Extensible configuration (virtual CPUs)

Disperse processing (multi-node, multi-platform)
Emulates dispersed processing

Features for diagnostics

Timing analysis
Message send/receive statistics
Message publish/subscribe data
Event log

User system controls
GUI interface
Integrates well with tactical computer programs
Allows for much greater scope of development and test on PC/workstation
---
TSTAR Sample Configuration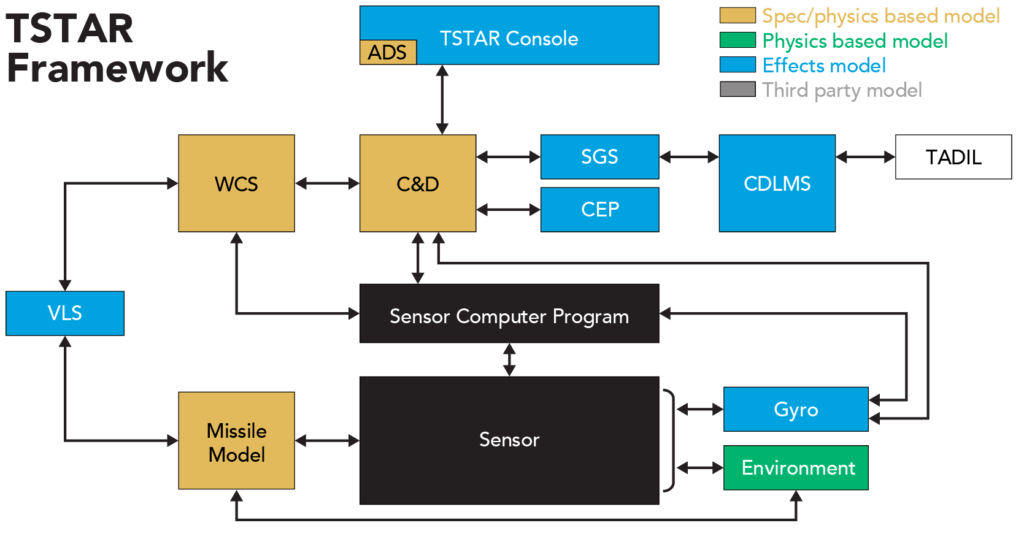 Subset configurations available to suit customer needs
Interfaces of all models are in accordance with tactical definitions; multiple baselines/versions are supported (i.e. Aegis BL 5, 7, 9o8, 9.2.0, 9.2.1, 9.2.2, 9.2.3)

FMS available with permission

Additional/substitute customer tactical components and/or representative models can be integrated into TSTAR
Experience the power of the virtual theater!
---
TSTAR is based on TCE technology
TCE has been used by the SPY-1 community since 2001

Predecessor (ADAM) used since 1993 for SPY-1 analysis

TCE supports the Combat Systems Test Bed (CSTB), a PEO-IWS and MDA official high-fidelity representation of the Aegis Combat System
TCE is accredited by PEO IWS1 and OTF for Baseline 9 Runs for the Record
Models
Framework
Since 2001, developed by TSC
Environment Model
Since 2001, developed by TSC

Imports ONI model data for threat trajectoriesVerified jammer model with CSSQT EA events
Utilize DIDP model for BMD targets (Aegis standard)
Propagation model uses TEMPER/VTRPE/others
Clutter model compared to recent at-sea test data

SPY-1 Hardware Model
Since 1993, developed by TSC – verified with at-sea data from numerous at-sea events

SPQ-9B Hardware Model
Since 2005, developed by TSC – used as part of LPD-17 PRA (official validated tool suite)
Missile Model
Since 2005, based on SPY SDM model – registered with APL's SM2 6DoF accredited model for SM2
---
---