PXIe Block Up/Down Converter
TSC manufactures high-performance specialty mixer components, assemblies, and instrumentation for demanding RF/microwave transmitters and receivers.
Our products are critical elements in wireless communications systems, radar/EW systems, test instrumentation, and scientific R&D. Our standard products are often just the starting point for a customized solution. Our experienced engineering staff is ready to discuss your application requirements and find the best solution for your system. This work is performed by our Polyphase Microwave team.
Models
C-Band (4.0 to 8.0)GHz
X-Band (8.0 to 12.0)GHz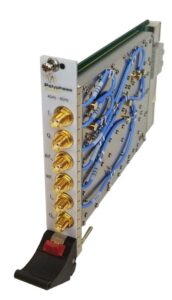 Features
Two Integrated Independent LO Synthesizers
Automatic LO Feedthrough Calibration
1GHz I/Q Bandwidth
30dB/1dB Step, Programmable RF Attenuation
PXIe Hybrid Slot-Compatible
Stand alone user control panel and software interface manual for custom integration
Available options
Quantum Computing
5G Testing
Doppler Weather Radar
Vector Signal Transceiver
(when paired with any Arbitrary Waveform Generator and high speed data acquisition system)
---